Where Compassionate Care Brings Peace of Mind and a Full Life
Innovative Health Services at Good Shepherd:
Short-term Rehabilitation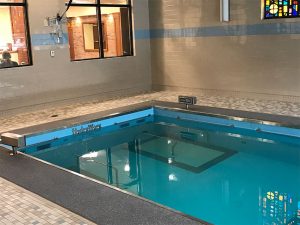 Regain strength and independence through our well-respected physical, occupational, speech and aquatic therapy programs offered as either outpatient or residential services.
The skilled therapy team and state-of-the-art resources in our spacious rehabilitation center will help speed your recovery after surgery, injury or other conditions. Good Shepherd's short-term rehab program has one of the highest physical function improvement rates in the county.
Regain Movement
Physical therapists will help you improve strength and coordination, control chronic pain and learn to use mobility aids. Many individuals see positive outcomes from our aquatic therapy, which uses an advanced HydroWorx® warm-water therapy pool with underwater treadmills and a thermal plunge pool.
Relearn Skills
If you are having trouble performing daily activities, our occupational therapists will help you relearn skills for personal hygiene, homemaking and meal preparation. Our new model home includes a full kitchen, laundry room, bedroom and bathroom for you to practice tasks in a real setting.

Improve Communication
Speech-language pathologists will help you improve functional communication skills of speaking, listening, writing and reading.
Enjoy a Feeling of Home
As a short-term rehab guest, you will enjoy a private room and full bathroom, the freedom to get up and enjoy meals when you choose, and the comfort of familiar staff members overseeing your healing each day.
Ready to enjoy life to the fullest?
Come experience the abundant fellowship and opportunities at Good Shepherd.